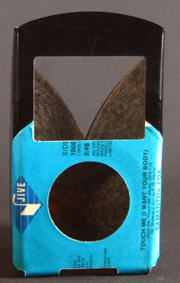 If there's one big drawback to
MP3 players
(and, indeed, CDs before them) it's the fact that they force all your old 45s into unemployment. And while some of you are probably far too young to even know what a 45 is , I'll just bet there are more of you who have a big old stack of them squirreled away somewhere. You don't play them anymore, but it just seems wrong somehow to throw them away. What's a girl to do?
Well, there's always
eBay
, of course, but if you don't fancy that, there's also 45
iPod Cases
, a company that makes
iPod
cases out of... go on, guess. Earlier you had to choose from the selection available on their website (the one in the picture, for instance, is made from Samantha Fox's Touch Me. Don't all try and buy it at once.) Now, however, your choice is even greater, and you can send them a record of your own, which they'll then work their magic on.