GINI Systems has just introduced its
iProduct
s line targetting "the
iPod
Generation with high-end taste." The initial launch of the
iProduct
s Line includes a unique Tube Based 2.1 Audio System called GINI iTube and a full functioned
iPod
Docking Station named GINI iConec. Together, they form a complete
iPod
audio system that converts digital tunes into music with "tube warmth" that audiophiles should enjoy.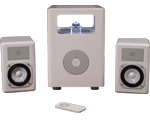 The GINI iTube combines vacuum tube and solid-state audio technologies to deliver the type of music that separates itself from the majority of
iPod
speakers in the market today. The system includes a hybrid amplifier with a built-in sub-woofer to provide substantial bass extension, a pair of Hi-Fi satellite speakers, and a remote control and accessories. The design is in perfect harmony with
iPod
s. The handcrafted main unit is made of wood with quality glossy finish while the speaker cabinets are made of high density top grade composite material to ensure excellent sound quality. GINI iTube can be used with
iPod
or other sources such as CD players.
The GINI iConec is a full functioned
iPod
docking station with remote control. Besides the usual volume control, backward and forward, the remote control includes functions such as mute, backlight, repeat, shuffle, playlist and album up/down, pause, etc. iConec also has a built-in charger which provides stand-alone recharging capability for
iPod
s. Adding to usability is the on-board volume control conveniently located on the front of the docking station. With the
iPod
docking adapters provided and those that come with
iPod
s, GINI iConec supports all models of
iPod
except
iPod shuffle
.